Thank you for rating this article.
The recent outbreak of COVID-19 has become a world-wide catastrophe in this century. It is devastating to see many people lost their lives, especially older generations and people with high health risks. In Malaysia, coronavirus has begun to replace our day-to-day life with a new norm.
The world has witnessed that quarantine helps to stop the spread of this contagious disease and now we are applying and adapting protective measures such as social distancing, wearing protective equipment (glove, face mask, face shield), practicing proper hygiene, and cooperating with the authorities.
The use of personal protective equipment or known as PPE is vital for everybody, not only for the health workers. The community is advised to wear masks in public areas to avoid exposure to the virus. Although experts say the risk of coronavirus transmission can be stopped by using the face mask, there is still a lot of concern from the public; "How much protection do face masks offer?", "Does wearing a mask protect me?", "Should we all be wearing masks?"
Here's what you need to know about face mask.
"How much protection do face masks offer?", "Does wearing a mask protect me?", "Should we all be wearing masks?"
IS FACE MASK A POLYMER?
Of course, it is! The main inner layer that functions as a filter in a face mask is made of POLYPROPYLENE in the form of ultra fiber. These fibers are in complex layers of fine polypropylene fibers that can only be seen under scanning electron microscopic images. The other layers are also made of a polymer. The inner layer (close to your mouth) is made of cotton, while the outer layer is made of polyester.
HOW CAN A FACE MASK BLOCK THE CORONAVIRUS?
The coronavirus is on a super macro scale, but it cannot exist independently. It needs secretion from your body such as saliva, droplets (when you are sneezing or coughing), and close contact (touching surface/objects that are contaminated with the virus). The size of droplets is typically larger than the virus which can be electrostatically adsorbed on the surface of the mask but cannot filtrate the mask.
THE THREE LAYERS IN FACE MASK
World Health Organization recommends that a face mask should has 3 layers to efficiently restraint coronavirus.
Inner layer (hydrophilic material). A hydrophilic material is one which easily absorbs droplets from exhaled breath.
Middle layer. This should ideally be a strip of polypropylene fabric, which is a spun-bond non-woven fabric material. This fiber provides electrostatic charge to function as a sticky part to filter germs, bacteria, and viruses from the surrounding as well as minimize the emissions from the wearer of the mask.
Outer layer (hydrophobic material). This non-absorbent polymer will repel droplets and moisture.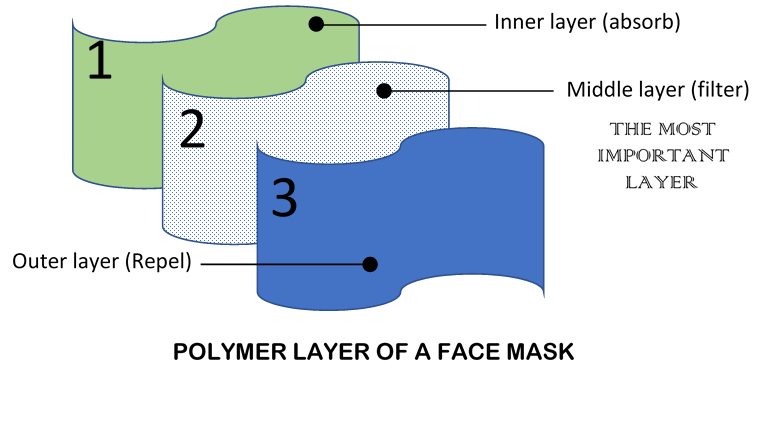 THE PROBLEM WITH MASKS
It is evident that the face mask is effective in protecting you and the people surround you. Unfortunately, the big issue is not only that people refuse to wear them, but also how to dispose of masks. Though many people understood that it has a one-time use, nobody quite knows how to dispose of the PPE waste correctly and safely. The used PPE might not carry the coronavirus, but they have a high risk of containing some infectious agents, such as germs and bacteria that could potentially be a threat to people, especially kids.
Apart from wearing the PPE, we should also practice how to dispose of them properly. So, here is what you can do to help minimize the risk of spreading through waste.
Always bring a resealable plastic bag to discard the mask (you can label it or use a different colour to indicate it is a waste)
Minimise the contact between used masks with others, especially your family members. Don't simply put in your bag, pocket or car. If you need to remove it for a short period, put it in a resealable plastic bag as well.
If you are using a reusable face mask, you should wash it every day with disinfectant and dry it before re-use.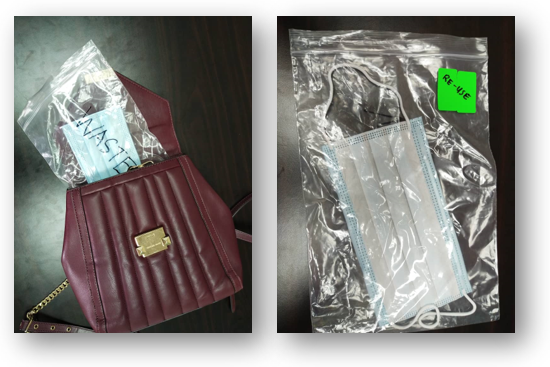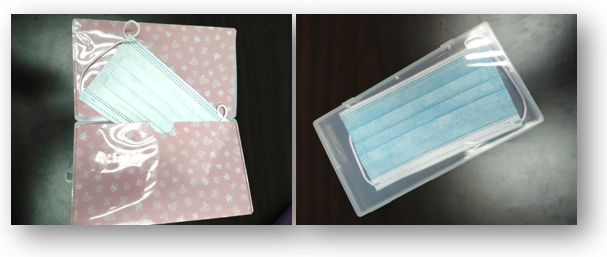 Our existing waste management in the public area does not have a proper bin or box to dispose of these items. I think premises, shops, and public areas must provide a specific place for disposal of PPE so that people can discard their PPE waste correctly and safely. This waste shall be pick up by responsible authorities and dispose of at designed facilities. I strongly believe that the power to stop the spread of coronavirus is in our hands. The face mask is your first armour for defense but at the same time, it can be a threat if not dispose of properly. Malaysian, let's keep up the momentum to fight coronavirus. #kitajagakita. We shall win!
The views expressed in this article are the author's own and do not necessarily reflect those in Universiti Sains Malaysia.