Thank you for rating this article.
Malaysia is blessed with wide spans of mangroves lining our coastlines (Fig. 1). These emerald green ecosystems are unique to the tropics and is home to diverse forms of flora and fauna.
Fishes, crabs, prawns, and other marine animals find habitat, feeding and breeding grounds and a safe haven beneath the water amongst the complex system of mangrove roots and in the muddy soil, as monkeys, birds and snakes would among the canopies of these majestic trees. Flourishing in narrow belt between land and sea the forests provide oxygen we breathe, food we eat, and water we drink. They regulate the climate, control the spread of diseases, and provides spiritual and recreational benefits to human beings. Additionally, they protect coastlines from erosion, storm surges, and natural disasters such as the tsunami. They are also known as natural carbon sinks which absorbs greenhouse gasses like carbon dioxide, out of the atmosphere and storing it in the trees and soil for many years.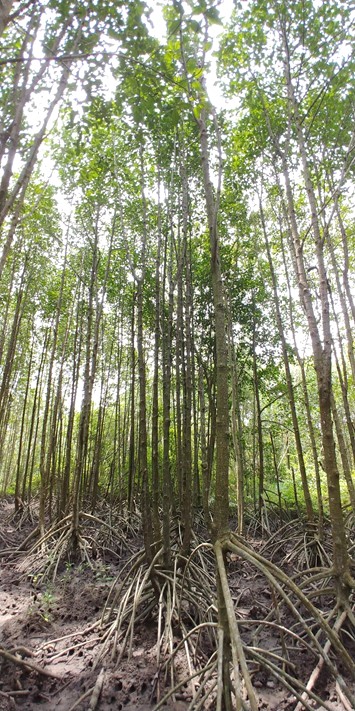 Fig. 1. The majestic mangrove forests of Malaysia.
Urbanisation and human propensity to live near the coast is adding tremendous pressure on the magnificent forests. The human mark comes in many forms. These include physical forms of large- and small-scale developments for residential and commercial areas, construction of highways, and establishment of aquaculture and agricultural farms, which see vast areas of mangroves being cut down and their soil, space, and location, exploited for the benefit of human beings.
On top of these is the ubiquitous and, to a certain extent, neglected issue of pollution within the mangroves. The mangrove ecosystems receive debris resulting from human activities from both the land and sea. Due to the unique characteristics of this ecosystem, the debris tend to get embedded in the muddy soil or caught amongst the complex netting of mangrove roots. A study conducted by Universiti Sains Malaysia and the University of Tasmania in 2019 on anthropogenic marine debris accumulation in mangroves on Penang Island, found that the amount of accumulated in a certain mangrove was directly proportionate to the population density in the area. The kind of debris found also was consistent with land use and livelihoods of the population in each area. To illustrate, the mangroves along the Jelutong Expressway, a densely populated and highly urbanised area, had very large numbers of debris which were mostly plastic bags, plastic sheets, plastics cutlery, plastic bottles, glass, and ceramics — reflective of a diversified human activity in that area (Fig. 2). Much of the debris in this mangrove is suspected to have spilled over from an adjacent landfill, while others could be contribution from direct dumping. In another urban mangrove in the Free Trade Zone, hundreds of food-related items like plastic cutlery and soft drink bottles were found presumably dumped after consumption (Fig. 3). Large numbers of construction materials were also found to be strewed in the mangroves here. Unlike the urbanized areas, mangroves in peri-urban areas were mostly made up of fishing nets (Fig. 4), plastic sheets, and bottles, consistent with activities of fisherfolk who made up most of the community in these areas. The amount of debris in peri-urban mangroves was significantly less compared to that in urban mangroves.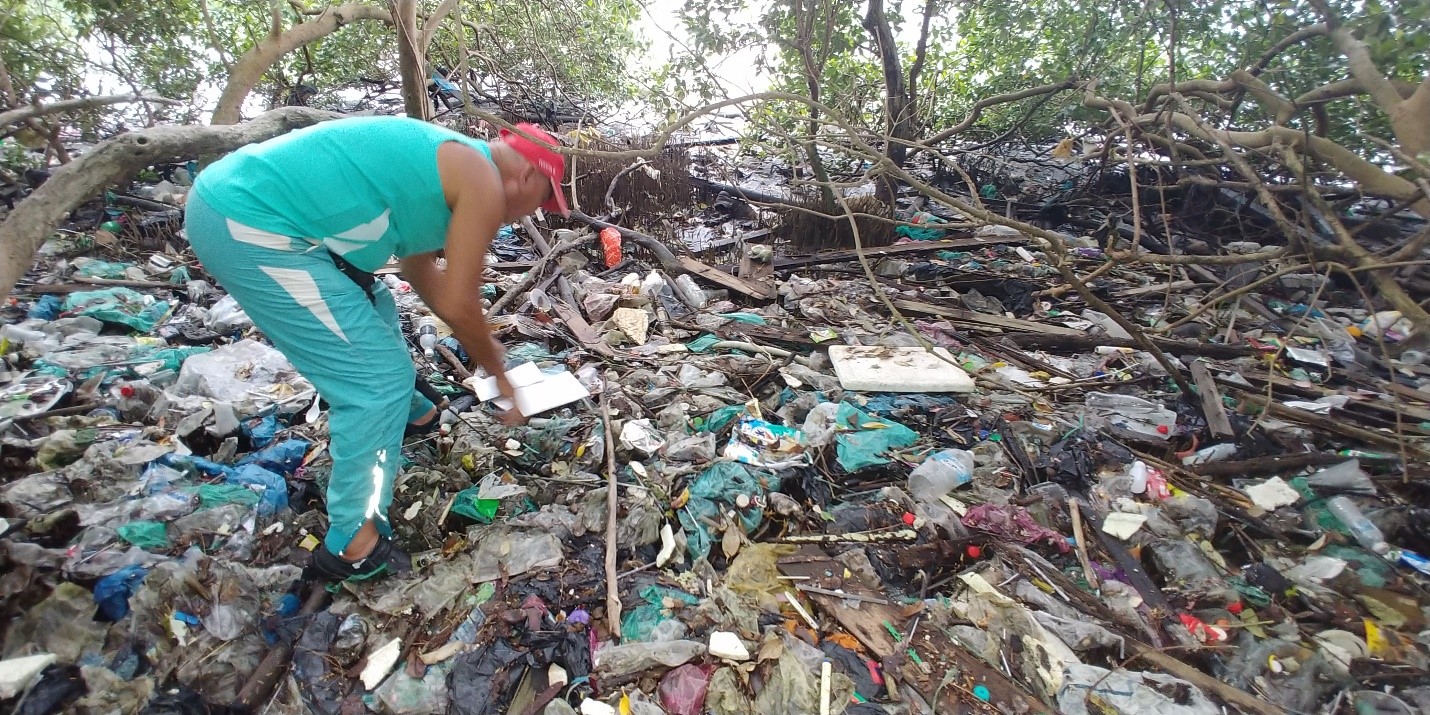 Fig. 2. A fisherman scavenging amongst anthropogenic marine debris accumulated in mangroves beside a landfill in Jelutong Expressway, Penang.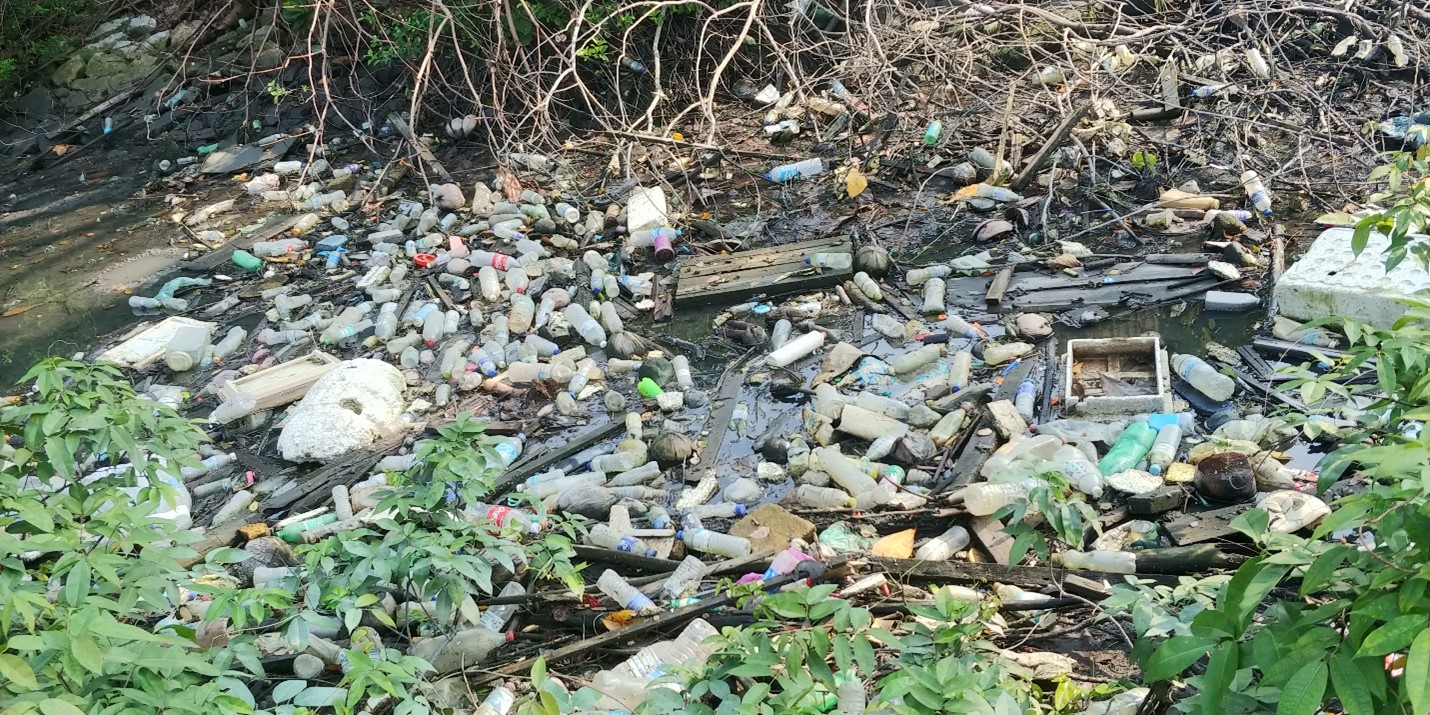 Fig. 3. Mineral water and soft drink plastic bottles trapped by mangroves roots in Sungai Kluang mangroves in the Free Trade Zone, Penang.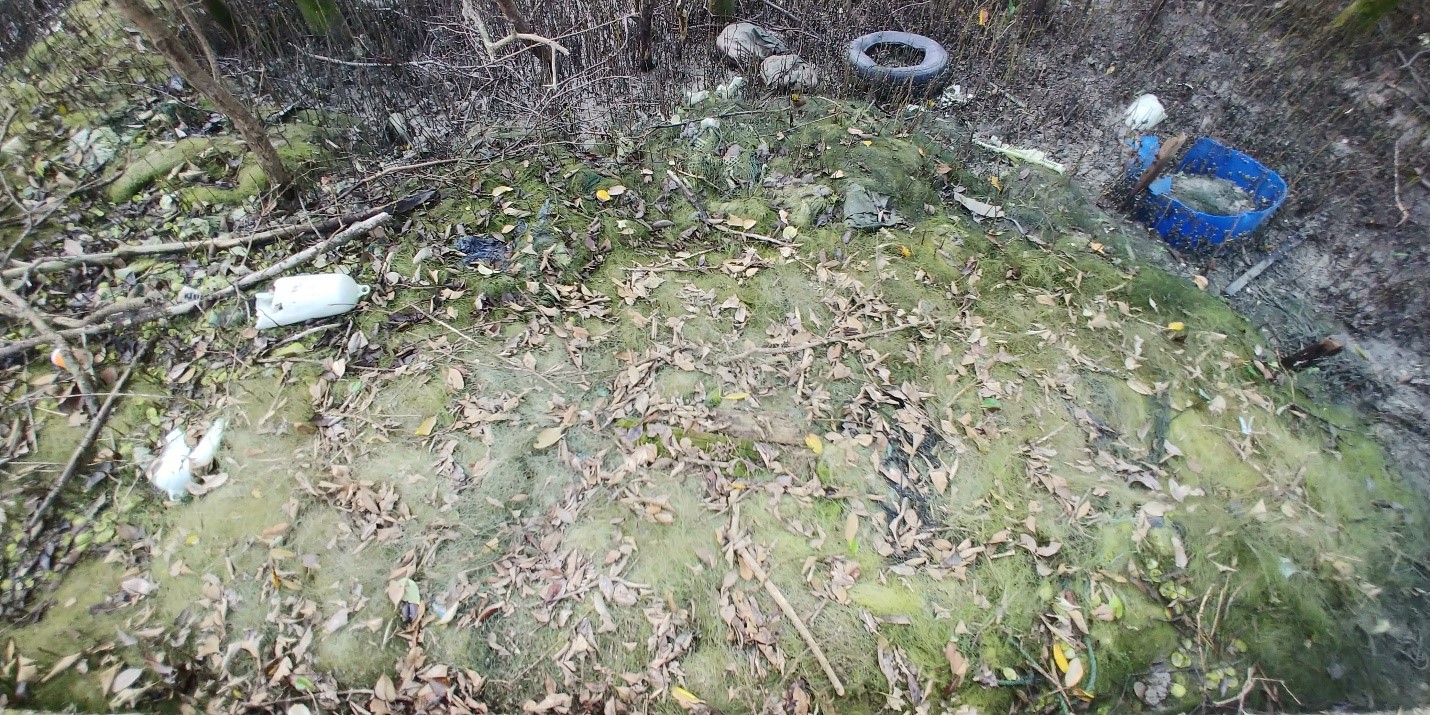 Fig. 4. A massive ghost net abandoned in the mangroves in Pantai Acheh, Penang. Ghost nets are known to trap and kill fish, crab, and birds that forage amongst mangroves.
Whichever the source and whatever the type of debris, they all accumulate in the canopy of the mangroves and are not easily removed. The main body of the mangroves retains most of the debris while the edges at the shoreline retain less – mostly lost to the water body through ebb and flow action of tides. The occurrence of accumulation raises many concerns. Amongst these are visual pollution and economic repercussions for the tourist and marine-related industries, causing harm to marine organisms via the absorption of harmful chemicals, facilitating the spread of non-native marine species to new habitats on floating debris, crushing of vegetation, reduction of light levels needed for vegetation growth, causing injuries and death among marine animals, and bioaccumulating up trophic levels.
Undoubtedly, it is time we put more effort into protecting our precious mangroves from pollution. More stringent laws and enforcement can help curb the issue of direct dumping in mangroves but controlling this act alone will not significantly decrease the accumulation of AMD in mangroves. At present communities in peri-urban areas face issues with infrequent rubbish collection due to their secluded locations leaving them no choice but to dispose them however they can. Municipal councils should pay closer attention to these areas and provide adequate facilities and services to avoid haphazard disposal of household waste. Reducing generation of single use items is highly advocated and would likely play a much bigger role in preventing more debris from entering our coastal ecosystems. Recycling programs are encouraged, but authorities should consider reviewing their mechanisms to prevent recyclables from entering coastal areas. As it is, plastics is still the number one debris found in the largest amounts indicating that current recycling systems have fallen short. Clean-ups can be organized to remove existing anthropogenic marine debris, and these should not only concentrate on beaches but also in mangroves which have long been neglected although they have greater abilities in retaining debris. Clean-ups in larger magnitudes and capacity are needed in urban mangroves where there are more contributors of debris and should concentrate in the main body of the mangroves where rubbish is mostly accumulated. Public awareness, education, as well as advocacy campaigns can also help change mindsets by stressing on the importance of conserving mangroves and its effect, otherwise. Constant engagement between researchers and the members of the public in local outreaches can raise awareness and invoke responsible action among individuals.
The perception of mangroves being idle ecosystems is rapidly being replaced by their recognition as super ecosystems of the tropics and governments are starting to acknowledge mangroves as a key solution to climate-related issues like sea level rise, rise in storm frequencies and to reach Sustainable Development Goals. However, for these forefront ecosystems to play their innate roles, they need to be healthy. Therefore, it is important now, more than ever, to protect these ecosystems in every we can so that they in turn, can protect us.
The article was originally published on The Petri Dish